14-16 November 2019
Pierre Auger Observatory
America/Mendoza timezone
photo: Municipalidad de Malargüe
Travel information
Transfers from airports will be organized, further details will follow shortly.
Visitors from neighboring countries only need their ID card to enter Argentina. Visitors from other countries must have a valid passport, with or without a visa (please check the official web pages of your government, local embassy or consulate). For more information on travel see on Travel Argentina (National Tourism Agency).
Getting there by plane + car/bus
The closest International airports with intercontinental connections are the Ezeiza (EZE) airport in Buenos Aires, Argentina and the Arturo Merino Benítez (SCL) airport in Santiago, Chile. From Buenos Aires Ezeiza (EZE) or Aeroparque Jorge Newbery (AEP) you can book a fligh connection to San Rafael airport (AFA) or to Mendoza airport (MDZ). In case you need a transfer Ezeiza - Aeroparque or Retiro Bus Terminal please check Manuel Tienda Leon website or directly look for their front office at the Ezeiza terminal and book a transfer by bus or remis (taxi). From Santiago del Chile you can book the connection to Mendoza airport (MDZ).
The journey to Malargüe lasts approx. 2.5 hs from San Rafael and 3.5 hs from Mendoza (recommended drive through the new RN40, turn right after the town of Pareditas and follow the signs to Malargüe, see picture and map). Transfers from airports will be organized. Bus and car rental are also an option, please refer to omnilineas and standard car rental companies. Google maps work well in Malargüe for finding your destination. If you arrive by bus, you might want to contact Rosa at the Observatory to help you to reserve a taxi to take you from the bus terminal in Malargüe to your hotel or cabaña.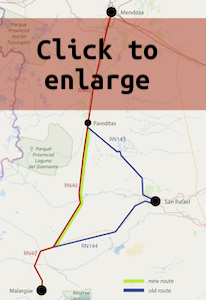 Currency and banks
The local currency is the Argentinian peso (AR$). US dollars and euros are generally accepted in tourist oriented business, as well as credit cards (especially VISA and Master Card). Cash (dollars and euros) can be changed at banks and exchange houses. ATM are also available close to the main road, and apply a daily limit on withdrawals.
Telephone code
Area codes are 0054 for Argentina and 2604 for Malargüe.
Power plugs
Power sockets are type C (Euro) and I (Australian/NewZealand). The standard is 220 V 50 Hz.